{"id":5636523917463,"title":"Hanging ceramic planter","handle":"hanging-ceramic-planter","description":"\u003cp\u003eHanging ceramic planters are available in number of colons for your balcony, terrace or garden.\u003c\/p\u003e\n\u003cp\u003eModel: GP 174_small\u003c\/p\u003e\n\u003cp\u003eDimensions: \u003c\/p\u003e\n\u003cp\u003eDiameter x height: \u003c\/p\u003e\n\u003cp\u003e8 x 4.5 inches\u003c\/p\u003e\n\u003cp\u003e5.5 x 3 inches\u003c\/p\u003e","published_at":"2020-09-09T13:28:37+05:30","created_at":"2020-09-09T13:28:35+05:30","vendor":"Gaia Pottery In","type":"","tags":[],"price":60000,"price_min":60000,"price_max":100000,"available":true,"price_varies":true,"compare_at_price":null,"compare_at_price_min":0,"compare_at_price_max":0,"compare_at_price_varies":false,"variants":[{"id":40049665638551,"title":"8 x 4.5 inches \/ Matt beige","option1":"8 x 4.5 inches","option2":"Matt beige","option3":null,"sku":"hanging01_mattbeige","requires_shipping":true,"taxable":true,"featured_image":{"id":19071864602775,"product_id":5636523917463,"position":2,"created_at":"2020-09-09T13:28:38+05:30","updated_at":"2020-09-09T13:28:38+05:30","alt":null,"width":1080,"height":1440,"src":"\/\/gaiapottery.net\/cdn\/shop\/products\/GP9174-Beige.jpg?v=1599638318","variant_ids":[40049665638551,40049665769623]},"available":false,"name":"Hanging ceramic planter - 8 x 4.5 inches \/ Matt beige","public_title":"8 x 4.5 inches \/ Matt beige","options":["8 x 4.5 inches","Matt beige"],"price":100000,"weight":2000,"compare_at_price":null,"inventory_management":"shopify","barcode":"","featured_media":{"alt":null,"id":11246806302871,"position":2,"preview_image":{"aspect_ratio":0.75,"height":1440,"width":1080,"src":"\/\/gaiapottery.net\/cdn\/shop\/products\/GP9174-Beige.jpg?v=1599638318"}},"requires_selling_plan":false,"selling_plan_allocations":[]},{"id":40049665671319,"title":"8 x 4.5 inches \/ Matt blue","option1":"8 x 4.5 inches","option2":"Matt blue","option3":null,"sku":"hanging01_mattblue","requires_shipping":true,"taxable":true,"featured_image":{"id":19071864668311,"product_id":5636523917463,"position":1,"created_at":"2020-09-09T13:28:38+05:30","updated_at":"2020-09-09T13:28:38+05:30","alt":null,"width":1080,"height":1440,"src":"\/\/gaiapottery.net\/cdn\/shop\/products\/GP9174-Blue.jpg?v=1599638318","variant_ids":[40049665671319,40049665802391]},"available":true,"name":"Hanging ceramic planter - 8 x 4.5 inches \/ Matt blue","public_title":"8 x 4.5 inches \/ Matt blue","options":["8 x 4.5 inches","Matt blue"],"price":100000,"weight":2000,"compare_at_price":null,"inventory_management":"shopify","barcode":"","featured_media":{"alt":null,"id":11246806270103,"position":1,"preview_image":{"aspect_ratio":0.75,"height":1440,"width":1080,"src":"\/\/gaiapottery.net\/cdn\/shop\/products\/GP9174-Blue.jpg?v=1599638318"}},"requires_selling_plan":false,"selling_plan_allocations":[]},{"id":40049665704087,"title":"8 x 4.5 inches \/ Matt green","option1":"8 x 4.5 inches","option2":"Matt green","option3":null,"sku":"hanging01_mattgreen","requires_shipping":true,"taxable":true,"featured_image":{"id":19071864766615,"product_id":5636523917463,"position":4,"created_at":"2020-09-09T13:28:38+05:30","updated_at":"2020-09-09T13:28:38+05:30","alt":null,"width":1080,"height":1440,"src":"\/\/gaiapottery.net\/cdn\/shop\/products\/GP9174-Green.jpg?v=1599638318","variant_ids":[40049665704087,40049665835159]},"available":true,"name":"Hanging ceramic planter - 8 x 4.5 inches \/ Matt green","public_title":"8 x 4.5 inches \/ Matt green","options":["8 x 4.5 inches","Matt green"],"price":100000,"weight":2000,"compare_at_price":null,"inventory_management":"shopify","barcode":"","featured_media":{"alt":null,"id":11246806368407,"position":4,"preview_image":{"aspect_ratio":0.75,"height":1440,"width":1080,"src":"\/\/gaiapottery.net\/cdn\/shop\/products\/GP9174-Green.jpg?v=1599638318"}},"requires_selling_plan":false,"selling_plan_allocations":[]},{"id":40049665736855,"title":"8 x 4.5 inches \/ Matt yellow","option1":"8 x 4.5 inches","option2":"Matt yellow","option3":null,"sku":"hanging01_mattyellow","requires_shipping":true,"taxable":true,"featured_image":{"id":19071864570007,"product_id":5636523917463,"position":3,"created_at":"2020-09-09T13:28:38+05:30","updated_at":"2020-09-09T13:28:38+05:30","alt":null,"width":1080,"height":1440,"src":"\/\/gaiapottery.net\/cdn\/shop\/products\/GP9174-Yellow.jpg?v=1599638318","variant_ids":[40049665736855,40049665867927]},"available":true,"name":"Hanging ceramic planter - 8 x 4.5 inches \/ Matt yellow","public_title":"8 x 4.5 inches \/ Matt yellow","options":["8 x 4.5 inches","Matt yellow"],"price":100000,"weight":2000,"compare_at_price":null,"inventory_management":"shopify","barcode":"","featured_media":{"alt":null,"id":11246806335639,"position":3,"preview_image":{"aspect_ratio":0.75,"height":1440,"width":1080,"src":"\/\/gaiapottery.net\/cdn\/shop\/products\/GP9174-Yellow.jpg?v=1599638318"}},"requires_selling_plan":false,"selling_plan_allocations":[]},{"id":40049665769623,"title":"5.5 x 3 inches \/ Matt beige","option1":"5.5 x 3 inches","option2":"Matt beige","option3":null,"sku":"hanging02_mattbeige","requires_shipping":true,"taxable":true,"featured_image":{"id":19071864602775,"product_id":5636523917463,"position":2,"created_at":"2020-09-09T13:28:38+05:30","updated_at":"2020-09-09T13:28:38+05:30","alt":null,"width":1080,"height":1440,"src":"\/\/gaiapottery.net\/cdn\/shop\/products\/GP9174-Beige.jpg?v=1599638318","variant_ids":[40049665638551,40049665769623]},"available":true,"name":"Hanging ceramic planter - 5.5 x 3 inches \/ Matt beige","public_title":"5.5 x 3 inches \/ Matt beige","options":["5.5 x 3 inches","Matt beige"],"price":60000,"weight":1000,"compare_at_price":null,"inventory_management":"shopify","barcode":"","featured_media":{"alt":null,"id":11246806302871,"position":2,"preview_image":{"aspect_ratio":0.75,"height":1440,"width":1080,"src":"\/\/gaiapottery.net\/cdn\/shop\/products\/GP9174-Beige.jpg?v=1599638318"}},"requires_selling_plan":false,"selling_plan_allocations":[]},{"id":40049665802391,"title":"5.5 x 3 inches \/ Matt blue","option1":"5.5 x 3 inches","option2":"Matt blue","option3":null,"sku":"haning02_mattblue","requires_shipping":true,"taxable":true,"featured_image":{"id":19071864668311,"product_id":5636523917463,"position":1,"created_at":"2020-09-09T13:28:38+05:30","updated_at":"2020-09-09T13:28:38+05:30","alt":null,"width":1080,"height":1440,"src":"\/\/gaiapottery.net\/cdn\/shop\/products\/GP9174-Blue.jpg?v=1599638318","variant_ids":[40049665671319,40049665802391]},"available":true,"name":"Hanging ceramic planter - 5.5 x 3 inches \/ Matt blue","public_title":"5.5 x 3 inches \/ Matt blue","options":["5.5 x 3 inches","Matt blue"],"price":60000,"weight":1000,"compare_at_price":null,"inventory_management":"shopify","barcode":"","featured_media":{"alt":null,"id":11246806270103,"position":1,"preview_image":{"aspect_ratio":0.75,"height":1440,"width":1080,"src":"\/\/gaiapottery.net\/cdn\/shop\/products\/GP9174-Blue.jpg?v=1599638318"}},"requires_selling_plan":false,"selling_plan_allocations":[]},{"id":40049665835159,"title":"5.5 x 3 inches \/ Matt green","option1":"5.5 x 3 inches","option2":"Matt green","option3":null,"sku":"hanging02_mattgreen","requires_shipping":true,"taxable":true,"featured_image":{"id":19071864766615,"product_id":5636523917463,"position":4,"created_at":"2020-09-09T13:28:38+05:30","updated_at":"2020-09-09T13:28:38+05:30","alt":null,"width":1080,"height":1440,"src":"\/\/gaiapottery.net\/cdn\/shop\/products\/GP9174-Green.jpg?v=1599638318","variant_ids":[40049665704087,40049665835159]},"available":true,"name":"Hanging ceramic planter - 5.5 x 3 inches \/ Matt green","public_title":"5.5 x 3 inches \/ Matt green","options":["5.5 x 3 inches","Matt green"],"price":60000,"weight":1000,"compare_at_price":null,"inventory_management":"shopify","barcode":"","featured_media":{"alt":null,"id":11246806368407,"position":4,"preview_image":{"aspect_ratio":0.75,"height":1440,"width":1080,"src":"\/\/gaiapottery.net\/cdn\/shop\/products\/GP9174-Green.jpg?v=1599638318"}},"requires_selling_plan":false,"selling_plan_allocations":[]},{"id":40049665867927,"title":"5.5 x 3 inches \/ Matt yellow","option1":"5.5 x 3 inches","option2":"Matt yellow","option3":null,"sku":"hanging02_mattyellow","requires_shipping":true,"taxable":true,"featured_image":{"id":19071864570007,"product_id":5636523917463,"position":3,"created_at":"2020-09-09T13:28:38+05:30","updated_at":"2020-09-09T13:28:38+05:30","alt":null,"width":1080,"height":1440,"src":"\/\/gaiapottery.net\/cdn\/shop\/products\/GP9174-Yellow.jpg?v=1599638318","variant_ids":[40049665736855,40049665867927]},"available":true,"name":"Hanging ceramic planter - 5.5 x 3 inches \/ Matt yellow","public_title":"5.5 x 3 inches \/ Matt yellow","options":["5.5 x 3 inches","Matt yellow"],"price":60000,"weight":1000,"compare_at_price":null,"inventory_management":"shopify","barcode":"","featured_media":{"alt":null,"id":11246806335639,"position":3,"preview_image":{"aspect_ratio":0.75,"height":1440,"width":1080,"src":"\/\/gaiapottery.net\/cdn\/shop\/products\/GP9174-Yellow.jpg?v=1599638318"}},"requires_selling_plan":false,"selling_plan_allocations":[]}],"images":["\/\/gaiapottery.net\/cdn\/shop\/products\/GP9174-Blue.jpg?v=1599638318","\/\/gaiapottery.net\/cdn\/shop\/products\/GP9174-Beige.jpg?v=1599638318","\/\/gaiapottery.net\/cdn\/shop\/products\/GP9174-Yellow.jpg?v=1599638318","\/\/gaiapottery.net\/cdn\/shop\/products\/GP9174-Green.jpg?v=1599638318"],"featured_image":"\/\/gaiapottery.net\/cdn\/shop\/products\/GP9174-Blue.jpg?v=1599638318","options":["Size","Color"],"media":[{"alt":null,"id":11246806270103,"position":1,"preview_image":{"aspect_ratio":0.75,"height":1440,"width":1080,"src":"\/\/gaiapottery.net\/cdn\/shop\/products\/GP9174-Blue.jpg?v=1599638318"},"aspect_ratio":0.75,"height":1440,"media_type":"image","src":"\/\/gaiapottery.net\/cdn\/shop\/products\/GP9174-Blue.jpg?v=1599638318","width":1080},{"alt":null,"id":11246806302871,"position":2,"preview_image":{"aspect_ratio":0.75,"height":1440,"width":1080,"src":"\/\/gaiapottery.net\/cdn\/shop\/products\/GP9174-Beige.jpg?v=1599638318"},"aspect_ratio":0.75,"height":1440,"media_type":"image","src":"\/\/gaiapottery.net\/cdn\/shop\/products\/GP9174-Beige.jpg?v=1599638318","width":1080},{"alt":null,"id":11246806335639,"position":3,"preview_image":{"aspect_ratio":0.75,"height":1440,"width":1080,"src":"\/\/gaiapottery.net\/cdn\/shop\/products\/GP9174-Yellow.jpg?v=1599638318"},"aspect_ratio":0.75,"height":1440,"media_type":"image","src":"\/\/gaiapottery.net\/cdn\/shop\/products\/GP9174-Yellow.jpg?v=1599638318","width":1080},{"alt":null,"id":11246806368407,"position":4,"preview_image":{"aspect_ratio":0.75,"height":1440,"width":1080,"src":"\/\/gaiapottery.net\/cdn\/shop\/products\/GP9174-Green.jpg?v=1599638318"},"aspect_ratio":0.75,"height":1440,"media_type":"image","src":"\/\/gaiapottery.net\/cdn\/shop\/products\/GP9174-Green.jpg?v=1599638318","width":1080}],"requires_selling_plan":false,"selling_plan_groups":[],"content":"\u003cp\u003eHanging ceramic planters are available in number of colons for your balcony, terrace or garden.\u003c\/p\u003e\n\u003cp\u003eModel: GP 174_small\u003c\/p\u003e\n\u003cp\u003eDimensions: \u003c\/p\u003e\n\u003cp\u003eDiameter x height: \u003c\/p\u003e\n\u003cp\u003e8 x 4.5 inches\u003c\/p\u003e\n\u003cp\u003e5.5 x 3 inches\u003c\/p\u003e"}
Hanging ceramic planter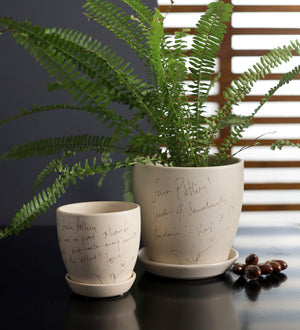 Product appreciated!
It is delightful to share the picture of these glazed ceramic pots signed by Bollywood actress 'Raveena Tandon' as a token of appreciation to the quality of our products.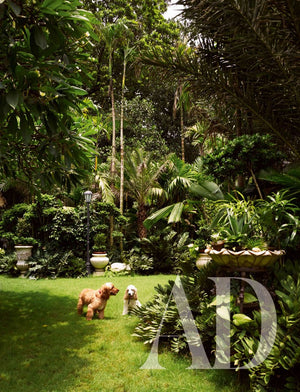 PUBLISHED: MAY 20, 2019 | 09:00:10 IST
Sabyasachi, Kolkata Home: 4 reasons why the fashion designer's mansion would be your dream home
The garden is dotted with marble pots and garden furniture from Gaia Pottery (Mumbai) and Sharma Farms (New Delhi).
Seen here: Sabyasachi's two Cocker Spaniels, running around in the large garden of this Kolkata home
Our clients